Fay Canyon
Fay is a shady canyon with a stone arch and a diverse collection of plant life, from the usual cactus and yuccas at the start, to a near jungle of wild grapes and alligator juniper in the middle, to a dense oak forest at the end. This is one of the best places in Sedona to see wildflowers in the Spring.
Trailhead:
From the 89A / 179 "Y" ... take 89A west 3.2 miles;
turn right on Dry Creek Road for 2.9 miles;
turn left on 152C for 1.5 miles;
turn left on Boynton Pass road for 0.5 miles;
parking lot is on your left.
Length:
3 miles (out and back) Elevation change: 500 ft
Notes:

The Hike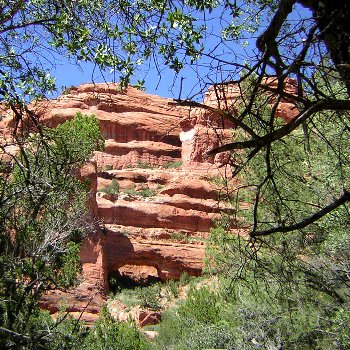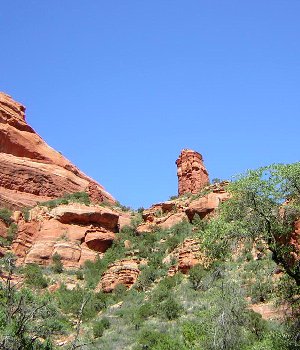 Fay's arch blends into the canyon walls and is very easy to miss; start looking for it as soon as you pass the distinctive chimney rock.
Behind the arch, and some artemesia growing nearby. The arch is reachable via a well-established unofficial trail - look for piles of stones marking the way on the main trail.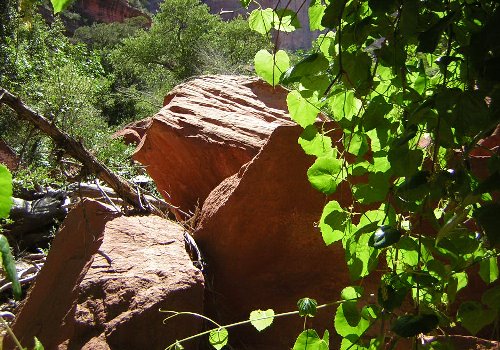 Most people give up when they get to these fallen boulders, but the trail continues behind them to the right, and into an oak forest.

Geranium in the oak forest.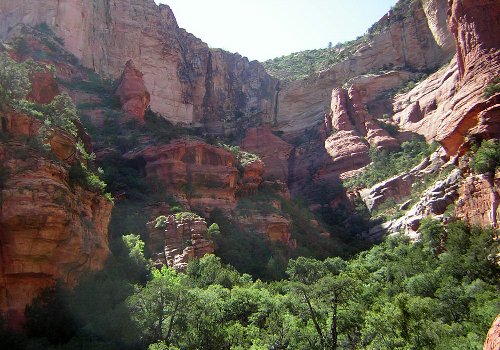 Canyon walls at the end of the trail.
---
home | hikes | parking | weather
---